STAY-Treat #16
November 25-27, 2022​​
Many are surprised how an online writing retreat provides a vital collaborative energy just knowing other people are writing like you then coming back on camera to share their word journey. No travel costs!
3-hour lounge December 11, 2021
Finding More Wonder in Your Words.
​Book the Stay-Treat weekend for you and your writing projects!



November STAY-Treat Special Guest



​

Talia Dashow

​

​

How to Turn Work Into Play

People tend to become stuck when there is work they don't want to do. By looking at things through a lens of creativity and play, we can loosen things up and make them appealing to be productive.

​

​

Talia Dashow coaches people on ending procrastination, and on using creativity as a means to grow. She has been coaching since 2001, helping people become more productive and feel better. Talia also runs Creativity Club, a Zoom room where we play creativity games to become more flexible thinkers and see more possibilities. Talia has earned a BA in English at UC Berkeley, a certificate as a mediator, and a certificate to facilitate Lego Serious Play.




Join us. Watch this page and my EventBrite link for a plethora of other events, such as Grammar Refresher workshops, Radiant Rewriting Sessions, Bio-Writing and more, then the monthly Writers' Lounges, and more Workshop Series offerings (which will be unveiled soon), right here.

​

​Give yourself the gift of time to f

ocus on what you love: Writing!


​

​​Click here to register in USD funds and confirm your spot by the 23rd for the November STAY-Treat. Click here to pay in Cdn funds or click here to send an e-transfer.

​​For the next STAY-Treat, click here for more information.

​To be a speaker at an upcoming STAY-Treat, please fill out this form.​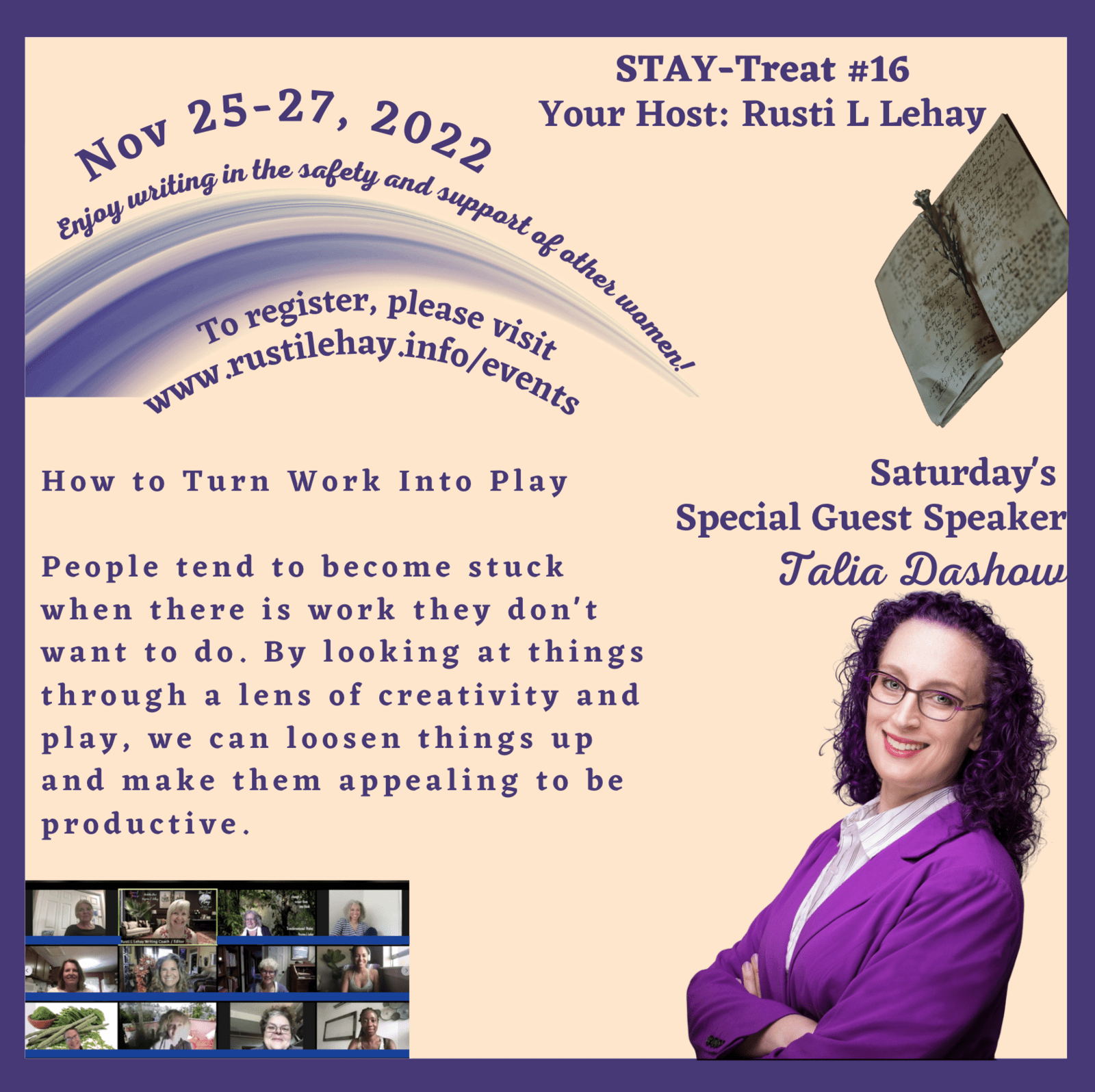 Exclusive Offer to hear our special guests:
It has been such a hit to invite guests in to hear our speaker. we are continuing. If you are unable to attend the whole weekend or simply want to hear the monthly special guest's talk, click here to register. I will admit you into the zoom room on the half-hour. Give or take a few minutes, we will begin the special guest portion roughly:
9:30 PST

10:30 MST
11:30 Central
12:30 New York
Schedule for the STAY-Treats
Friday 7:00-9:00 MST Saturday - Sunday 9:00-3:00 MST
Introductions, then one short writing session and sharing often followed by a meditation by Ambika Devi on Friday night.

We dive into solid writing time on the Saturday and Sunday. Attendees always say the longer time blocks zip by. We start with a check-in, Q&A and sharing if people wish. Ambika continues to weave her meditation magick inspiring us.
We hope you'll join us for this fun and productive time together. In previous retreats, our attendees hailed from Germany, Australia, London, U.K, Florida, New Orleans, Alberta, British Columbia and Mexico. Click here to find out more.
Resources Available:
From planning your title to Amazon best seller strategies and guerilla marketing, we have the resource you need or can refer you.
What are you needing? Chances are I have a template for that!
I have created over 45 articles and templates to help you on your writing journey!
Resources Available:

From planning your title to Amazon best seller strategies and guerilla marketing, we have the resource you need

or can refer you.
It seems to me that a view of the heavenly bodies through a fine telescope, as well as a tour round the world, should form a part of a liberal education.
December 10th is a Co-Ed Writers' Lounge

​We Mixed It Up August 27th & October 8th!​

​We're Doing the Co-Ed Again!

​

The inaugural writing event for men and women to mix up their energies and write, then write some more and share was fantastic as some shared their appreciation to have the yin and the yang! Check out the other regular events below.




No writing experience required. These are safe, comfortable online events.

Take sacred time out for you and enjoy the space to explore topics you have neglected or long wanted to write about. Play with words, images, possibilities and other ideas/techniques offered throughout the day, along with prompts to inspire you. Set this time aside just to have fun with other writers playing with words.




Rusti L Lehay (creative writing instructor and workshop leader for over a decade) will be your guide.
Brand New Opportunity for Writing Support
Perfect for authors looking for encouragement and accountability to complete their books, or meet deadlines for other writing projects. Great for writers who are fatigued going it alone. Receive valuable feedback and encouragement during the editing/revision process before sending it off to agents, before testing the market with your virgin copy, or hiring an editor to do a complete overhaul.
In this structured group, every writer will learn from each other's equally allotted time of sharing and feedback, writing techniques and skills will be reviewed, resources will be shared, and most importantly, writing can be a group thing, instead of solitary drudgery.
Just like weightlifters need a spot in the gym to lift beyond their capacity to grow their muscles and push past plateaus, writers need friendly listeners to spot gaps, the need for transitions, and to confirm where the writing captivates, intrigues and draws readers to the content. Ask me more or click here to fill out a multiple choice form sharing your interest and questions.
write. It'a always a good time to write!
Find Your Story, Write Your Story with Word Quest
Our team of editors, ghostwriters, proofreaders and Rusti's coaching for writers are here when you are ready. We even help you feel ready! Remember "Done is better than perfect and waiting for better is the enemy of accomplishing your goals."
Past issues of newsletters with their tips, resources, writing prompts and challenges may be accessed here:
Issue 1 ~ Issue 2 ~ Issue 3 ~ Issue 4 ~ Issue 5
Main~
The main tips in Issue 5 are how to create the habit of writing with my 21-day Habit Creation Program