Scroll below to view upcoming events in order
March 11th, 2023 is a Co-Ed Writers' Lounge

​We've Mixed Five Lounges up!​

The three-hour lounges will continue as Co-Ed!

​

The inaugural writing event for men and women to mix up their energies and write, then write some more and share was fantastic as some shared their appreciation to have the yin and the yang! Check out the other regular events below.




No writing experience required. These are safe, comfortable online events. Take sacred time out for you and enjoy the space to explore topics you have neglected or long wanted to write about. Play with words, images, possibilities and other ideas/techniques offered throughout the day, along with prompts to inspire you. Set this time aside just to have fun with other writers playing with words.




Rusti L Lehay (creative writing instructor and workshop leader for over a decade) will be your guide.
STAY-Treat #18


March 18-19th, 2023​​
Many are surprised how an online writing retreat provides a vital collaborative energy just knowing other people are writing like you then coming back on camera to share their word journey. No travel costs!
3-hour lounge December 11, 2021
​ Finding More Wonder in Your Words




​

Book the Stay-Treat weekend for you and your writing projects!



March Special Guest Speaker




​ Ambika Devi




THE real question to ask your characters?

"What's your sign?"

​

Traits, qualities, & quirks. Ask your character,

"What's your sign?"

with expert astrologer

Ambika Devi

. An International-award-winning author, Ambika, shares a new slant on creating authentic fictional characters. You can expand on the players in your creative non-fiction. At least we often know the birthdates of those characters that waltzed in and out of our lives.




P.S. Karaka is the Root of character. Karaka are the characteristics of each sign, house, and planet​​.




​Give yourself the gift of time to f

ocus on what you love: Writing!



​​Click here to claim your spot for this STAY-Treat to register in USD funds.
​Click here to pay in Cdn funds or click here to send an e-transfer.
​​For the next STAY-Treat, click here for more information.
​To be a speaker at an upcoming STAY-Treat, please fill out this form.
​Last month's speaker was Carolyn Choate. Her talk can be found here.​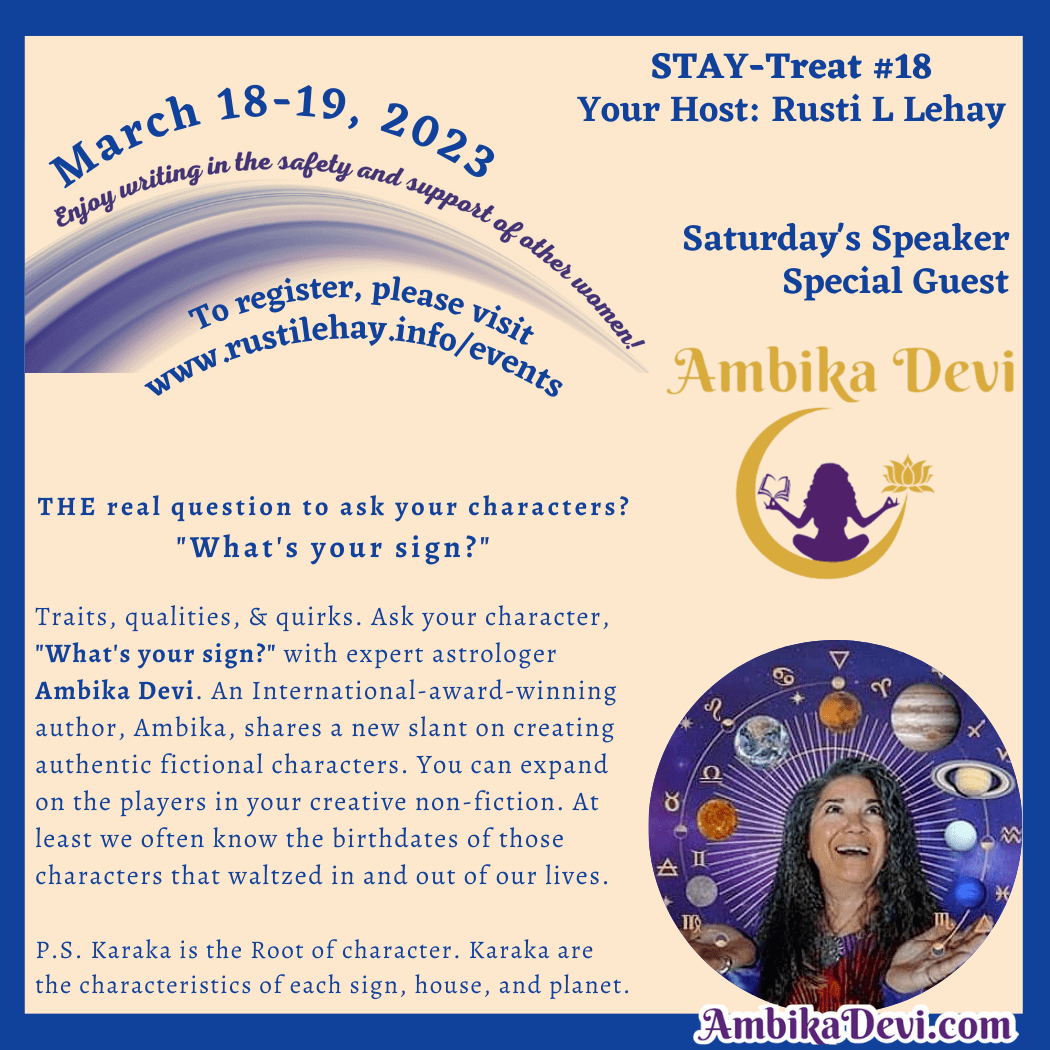 Exclusive Offer to hear our special guests:
It has been such a hit to invite guests in to hear our speaker. we are continuing. If you are unable to attend the whole weekend or simply want to hear the monthly special guest's talk, click here to register. I will admit you into the zoom room on the half-hour. Give or take a few minutes, we will begin the special guest portion roughly:
9:30 PST

10:30 MST
11:30 Central Time
12:30 New York / EST
Schedule for the STAY-Treats
Saturday - Sunday 9:00-3:00 MST

We dive into solid writing time on the Saturday and Sunday. Attendees always say the longer time blocks zip by. We start with a check-in, Q&A and sharing if people wish.
We hope you'll join us for this fun and productive time together. In previous retreats, our attendees hailed from Germany, Australia, London, U.K, Florida, New Orleans, Alberta, British Columbia and Mexico. Click here to find out more.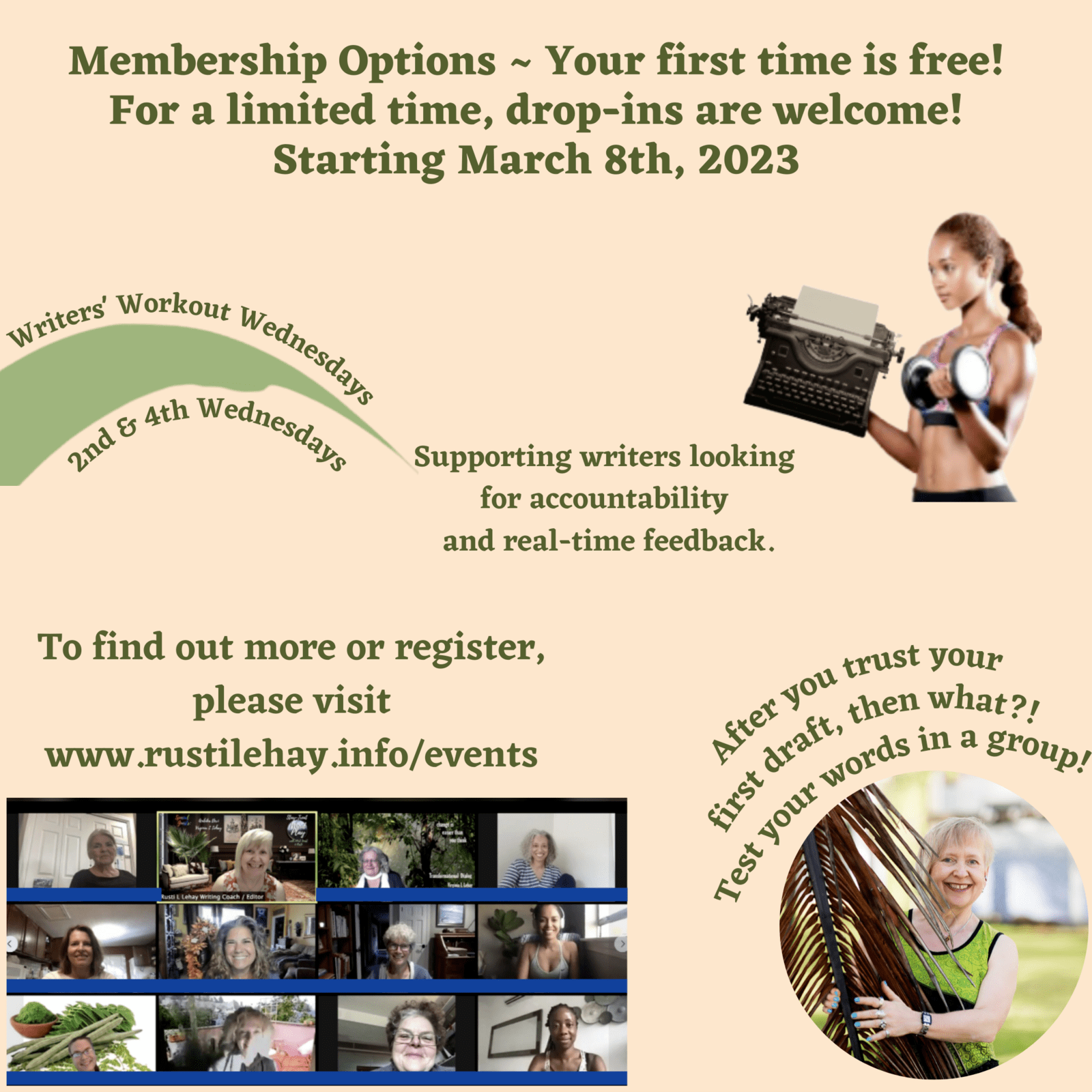 Brand New Opportunity for Writers:
Writers' Workout Wednesdays!
Perfect for authors looking for encouragement and accountability to complete their books, or meet deadlines for other writing projects. Great for writers who are fatigued going it alone. Receive valuable feedback and encouragement during the editing/revision process before sending it off to agents, before testing the market with your virgin copy, or hiring an editor to do a complete overhaul.

In this structured group, every writer will learn from each other's equally allotted time of sharing and feedback, writing techniques and skills will be reviewed, resources will be shared, and most importantly, writing can be a group thing, instead of solitary drudgery.

Just like weightlifters need a spot in the gym to lift beyond their capacity to grow their muscles and push past plateaus, writers need friendly listeners to spot gaps, the need for transitions, and to confirm where the writing captivates, intrigues and draws readers to the content. Ask me more or click here to fill out a multiple choice form sharing your interest and questions.
Six-month commitment is Cdn $51.97/month, Monthly Cdn $55.97, Drop-in CDN $33 (Participants limited to 8. Drop-in option is dependent on availability .

From planning your title to Amazon best seller strategies and guerilla marketing, we have the resource you need or can refer you.
What are you needing? Chances are I have a template for that!
I have created over 45 articles and templates to help you on your writing journey!
Don't know where to start? Receive laser coaching to find your launch point to build your outline around! Hear what KG said, "I
knew I wanted to write a book one day. I had no idea how to begin and after hanging up from an impromptu quick chat, I had to write Rusti right away and shared,
OMG, I went from overwhelmed to excited in less than 15 minutes! You are a real blessing. Thank you!"
"You've given me so much more in a short discovery call than I received from a multi-thousand dollar book contract."

Gina Bosler Fontaine





​Writers Launchpad - Aim for the moon!

​Masterminding with an expert about your book structure or ideas makes it easy to take action on the next step, and the next, and the next! By booking a Launchpad Session with Rusti, save yourself frustration, time and money. See yourself reach milestones, and benefit from a coach who can see directions to explore.




​Whether

you're contemplating writing your first book, or ready to market a completed manuscript

,

Rusti's techniques and encouragement will provide tools, answer

questions,

and keep you writing effectively.

​

Your

Launchpad Session

includes:

~ Do you need and/or want to write a book, but aren't?

~ Discover what kind of book is in you.

~ Delve into the healing power of personal writing.

~ Learn to write to save your life, I did!

​

~

Or calculate your book's ROI.

~ How short e-books can offer more advantages & higher profits.

~ How to "earn" an Amazon best-seller spot.

~ Key steps to increase your chances for a NYT best-seller!

~ Find out how to use the Wall Street Journal as a selling tool.

~ The promotion perks of using NetGalley and GoodReads.

​

~ Find the key thoughts and build your outline!

~

How to strategically plan blogs to write your book for you!

​

All this for only $297 USD
Need a plan, some guidance, and some easy steps to follow to start and finish that book? You've arrived at the right (write) place. Book your Launchpad Session now.
write. It'a always a good time to write!
Find Your Story, Write Your Story with Word Quest
I have a team of editors, ghostwriters, proofreaders, and individualized coaching for writers here when you are ready. We even help you feel ready! Remember, "Done is better than perfect and waiting for better is the enemy of accomplishing your goals."
Past issues of newsletters with their tips, resources, writing prompts and challenges may be accessed here:
Issue 1 ~ Issue 2 ~ Issue 3 ~ Issue 4 ~ Issue 5
Main~
The main tips in Issue 5 are how to create the habit of writing with my 21-day Habit Creation Program